Business Loan For Franchise
How to Get a Business Loan for Franchise Equipment
Get a business loan for franchise business equipment through CFI Finance® quickly and easily and retain your valuable capital to use towards other aspects of the business. CFI Finance® is a leading provider of finance to franchise businesses in Australia and our directors have more than 20 years of experience in the franchise financing field. As specialists in new and used equipment financing we make the equipment financing process convenient, speedy and simply completed online. Instead of outlaying large sums of cash to acquire the equipment you need to start-up or expand your business, you can finance your equipment and retain your capital to spend on other important endeavours such as marketing, promotions and even hiring more staff.
Whether you're expanding to a second or more locations or starting your first franchise operation, financing your commercial equipment is the wise choice.
This is How We Can Help Your Business Succeed
Getting a
small business loan for franchise
business equipment, leasing or renting the commercial equipment needed is simple with
CFI Finance®.
We have flexible rental solutions, fixed term leasing and business loans available so that you can choose the option that best suits your business.
Here's how the process works,
Find the equipment you need from your chosen supplier. Send us the quote/invoice and choose the financing solution that suits you from leasing, rental and business loans.
We'll assess the application and have you approved promptly.
We raise the contract and email it to you.
We pay your supplier and the equipment is delivered to you.
We provide financing for new, used, serialised and non-serialised equipment, as well as custom-made equipment.
If you want financing for just one item of equipment or an entire store fit-out we have a rental, leasing or business loan solution to suit your requirements.
These are the finance options you can choose from,
Equipment Rental: If you'd like to change requirements without being locked into a long-term contract, this is the option for you. The terms range from 12 months to 24 months.
Equipment Leasing: This is for anyone who wants to own their equipment at the end of the contract term. Terms range from 3 to 5 years.
Business loan: For franchise owners who want ownership of their assets from the start, this is the best option. The contract terms range from 3 years up to 5 years.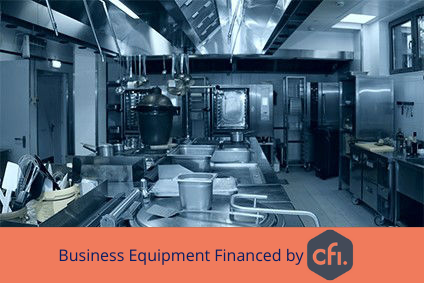 Call us today on 1300 659 676 and ask a friendly Customer Service Representative how we can help you
Advantages of Equipment Rentals, Leasing or Business Loans for Franchise Businesses
Initially purchasing your equipment outright may seem like the best choice, but in the long run it will cost you more if you need to finance the repairs and maintenance of the equipment due to wear. By financing your equipment, you minimise your asset risk. When you consider asset depreciation, financing the equipment instead of buying it outright is the smarter choice. This way you can start making money immediately and the asset can pay itself off over time.
This will also allow you to retain your capital which will be useful when you want to promote and advertise your business to attract more customers. You can also use the extra cash to hire new staff, spend on unexpected costs or even expand sooner.
As an off-balance sheet form of funding, there is no liability to record and repayments can be made 100 per cent tax deductible.
Ultimately having cash available will increase the chances of your business succeeding.
As specialists in the franchise financing field, we use our expertise to make equipment leasing, rentals and business loans for franchise businesses hassle-free and the process as transparent as possible. The contract we raise is written in plain English so it's simple to understand and if you have any questions our friendly Customer Service Representatives are just a phone call away, anytime night or day.
Call us today to find out more on 1300 659 676.