How To Get Commercial Equipment Financing for Your Franchise Business
Franchise owners starting up or expanding have the opportunity to finance the franchise equipment needed through specialised financial products available from CFI Finance®, a specialist commercial equipment financier to the Australian franchise sector.
The right commercial equipment is crucial to the success of any business, and normally this would require outlaying your capital at the start. But by having your commercial
equipment financed
by CFI Finance
®
, you won't have to spend your capital at the outset, instead you can retain your capital to operate and grow your business. We can fund just one machine or piece of equipment, or the entire suite of required equipment for a new franchise.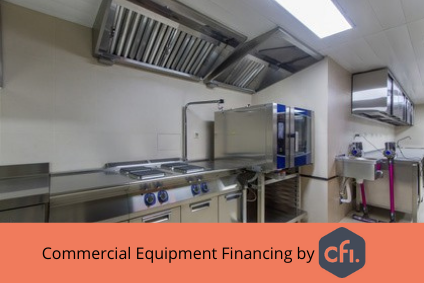 How Our Commercial Equipment Finance Solution Works
Source the equipment needed – You simply find the equipment you need for your franchise business from a reputable supplier in Australia.
Apply to us online –  Select either our flexible rental or leasing options when submitting your application.
Hear from us – We will inform you of the outcome of your application quickly, usually within 24 hours.  Alternatively, you can request more information by calling us on 1300 659 676. All contracts will be raised and emailed to you.
Receive Your Equipment– We will then pay your equipment supplier and the goods will be delivered to you.
Who We Are?
CFI Finance®
, is a specialist equipment funding provider focusing solely on commercial
equipment financing solutions
for the Australian Franchise industry. We help small businesses looking for smart financing solutions that make things easier on their cashflows! Our goal is to take the stress out of funding your small business. We do this with our quick and easy online application process, our clear and open policies, and our highly experienced expert consultants.
How Can We Help Your Franchise Business?
Whether you need to outfit an entire operation with equipment or simply a single piece of equipment to ensure the success and growth of your franchise business, we can provide the right solution for you. While starting a business and seeking
franchise loans
presents its challenges, we endeavour to make the process of asset and equipment financing simple and hassle-free. To get a quote or more information, call us on
1300 659 676
. With flexible payment options you can choose to pay out the contract whenever you like and purchase the equipment. You also have the option of returning the equipment if it is not right for you.
CFI Finance®
can finance the assets you need for your business (serialised assets, non-serialised assets) or custom-made equipment. We also finance entire store fit-outs and full store refurbishments. Examples of assets financed include blenders, fryers, dishwashers, ovens, freezers, coffee machines, grills, drink dispensers, toasters, display cabinets, fridges, juicers, ice machines, mixers, bakery equipment, benching, furniture,
fitness equipment
, cold rooms and even point of sale systems etc.  (See more about
commercial kitchen equipment financing here
).
Benefits of Using CFI Finance to Finance Your Franchise Equipment
Low Weekly Payment Options
No Personal Security needed
Agreements ranging from 1 to 5 years.
Flexible End of Term Options
"Off Balance Sheet" funding
You Save Your Capital
We're available 24 hours a day, 7 days a week.
Get funding for your franchise equipment in 4 simple steps.
Avoid Asset Risk
The online application is quick and easy – it usually takes just 10 minutes to complete.
Making The Right Commercial Equipment Financing Choice
Are you deciding whether to finance your franchise equipment or buy outright? As a franchise owner, you may be just starting out with your first franchise or expanding to a second location, either way you will be faced with the decision of whether to finance or buy your equipment outright. To buy your equipment outright is expensive and outlaying a large amount of money will drastically reduce your working capital. While it may seem like buying your equipment outright is the most cost efficient way of acquiring your equipment, you should also take into consideration depreciation. You will need to finance the maintenance and repairs to your equipment over time. You also may need to make upgrades and pay for add-ons, which will further reduce your capital. By financing your commercial equipment, you have more funds available for marketing, expanding your business or even buying another franchise.
There are 3 Contract Options to choose from:
Rent: A flexible option with 12 to 14 month minimum terms. You are able to change your requirements without a long term contract.
Rent to Own: After the first 12 months have passed on the original contract, you can change to a 36 month rent to own contract.
Lease: Choose between 3, 4 or 5 year terms as well as your residual value. There's also the benefit of knowing you will own your equipment at the end of the agreed upon term.
In the long run, commercial equipment financing is a more affordable and convenient option, particularly during start-up or expansion phases when your cash-flow needs to be flexible. To get a quote or for more information on our
franchise finance
options, call us on
1300 659 676
or click one of the options below: