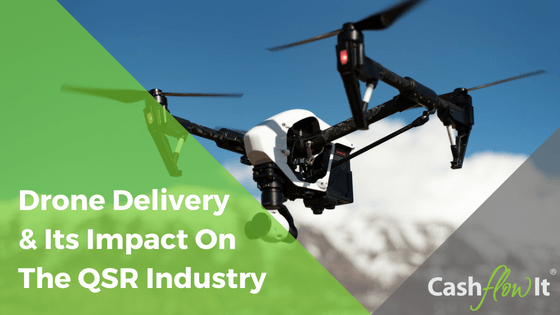 Drones are somewhat of a hot topic across many industries in 2018. Over the past couple of years, the range of drones available to consumers has skyrocketed and adoption has gone through the roof, it would now be considered commonplace to own a drone to take aerial footage on your holiday, or simply for fun in your own backyard. However, uptake of the technology is not limited to the consumer front, with many businesses looking for ways in which they can integrate drones to make their processes, quicker, easier and cheaper.
One particular industry that has seen the benefits is QSR. With the home delivery trend continuing to grow in popularity, brands are looking for ways in which they can cut down labour costs and still provide convenience to their customers. At the forefront of this movement in the Australian market is Guzman Y Gomez. Their 2017 partnership with X's Project Wing saw them become the first company to actually implement drone delivery to their customers front door.
Despite only being launched on a trial basis available to customers around their test site in Royalla, ACT, this was a big step in showing the rest of the industry that the previously out of reach concept of drone delivery, can now become a reality.
There are many questions surrounding the practical use of drone delivery and what it may look like as more brands get systems up and running. Early adopters such as Guzman Y Gomez have said they they envision a national network, similar to that of air traffic control, to ensure safe use and reduce the risk of incidents like collisions.
Aside from the obvious convenience benefit to consumers, there are a range of other upsides that come with the introduction of drone delivery systems across QSR. For a long-time the industry has sought out sources of automation to reduce costs, and drones are just the newest part of this larger trend.
As QSR brands continue to explore this space, it is predicted that drive-thru will become less relevant whilst food delivery takes centre stage as brands 'convenience' offering. The drop of drive-thru's may also preface a longer-term trend of virtual restaurants. The rise of 'dark kitchens' came to light as a strategy for popular eateries to churn out food delivery orders without disrupting their main location. Rather, they opened a cheaper to operate, non-customer-facing site that was solely for the purpose of creating order that came through third party food-delivery apps such as Uber Eats and Menulog. If food delivery becomes the norm, some brands may opt to eliminate the dine-in experience in order to run a more affordable and efficient delivery only offering.
Ultimately, the rise of drone delivery could impact the QSR service model fundamentally. However whilst many brands are doing small trails here or overseas, it is unlikely that a full blown drone delivery system will be hitting the Australian market any-time this year. The concept is creating a buzz as many brands line-up to get on board, but a formal infrastructure and legislation needs to be put in place first before we see drones dropping food at our doorsteps.